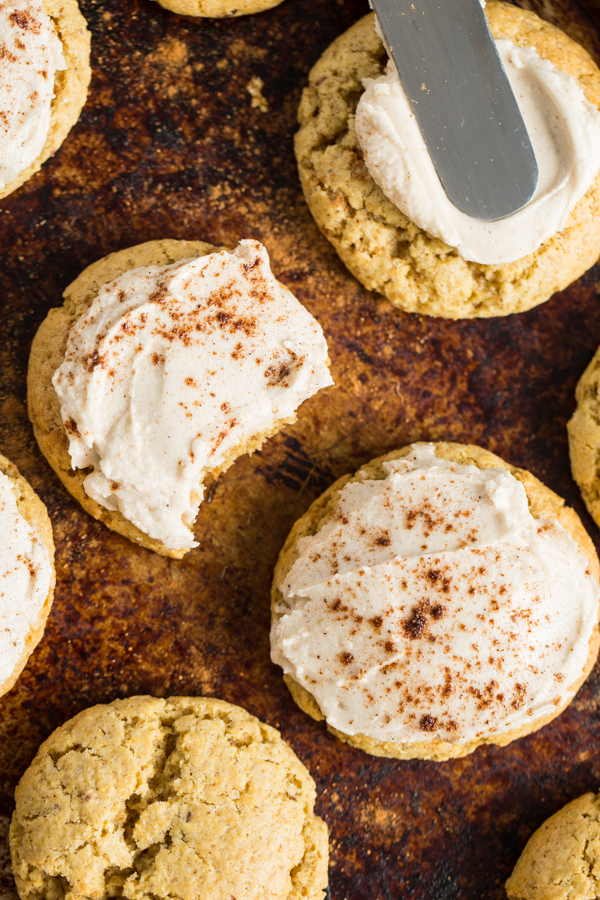 Hey everyone, I hope you are doing well! I'm popping in with a fun fall-inspired cookie recipe today that's been on repeat in this house. 
First, I want to thank you all so much for your support for Oh She Glows for Dinner! I'm immensely grateful for each and every one of you who believe in me and in what I create. It's sounding like cozy, plant-based meals to enjoy at home is a theme you're really eager for, and hearing this makes me so happy because this book was almost the end of little 'ol me…hah 😉 jk. Well, it was my biggest challenge to date, but sooo worth it and I'm thrilled with how it all came together. Now that I get to cook from this book in my own kitchen, it's pretty darn special. I can't wait for you to be able to do so as well.
Your pre-orders help a lot because the more pre-orders we have, the better chance we have to get the book stocked in more numerous and varied retailers, such as independent stores, chain stores, and online retailers, allowing everyone to locate the book more easily and support their favourite stores. I appreciate your help so much!! Click here to find out where you can pre-order your copy so you can start cooking up these delicious, cozy recipes as soon as it's hot off the press! Not much longer to go now. 🙂 If you pre-order, don't forget to claim your pre-order Bonus Bundle here until October 13th.
Okay, now it's time to ring in the fall season with a brand-new, lightly spiced, and completely addictive frosted pumpkin cookie. 
Sending you all my love and good vibes for the new season ahead!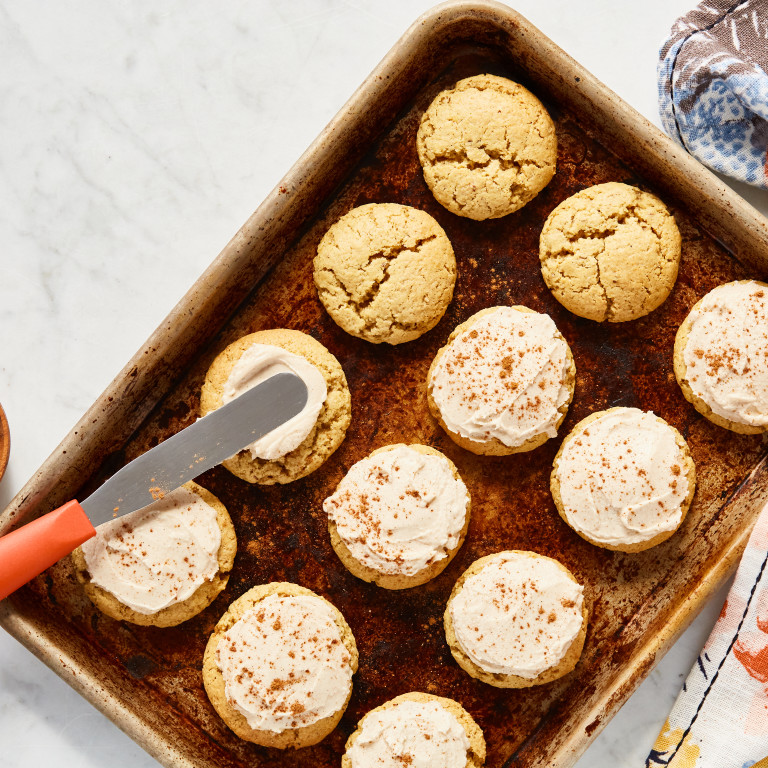 Perfect Little Pumpkin Cookies with Spiced Buttercream
Vegan, soy-free
★★★★★
4.7 from 13 reviews

Yield

20 cookies
Prep time

Cook time

Total time

Why hello there, beautiful pumpkin season! These lovely pumpkin cookies are lightly crispy around the edges, tender and chewy in the middle, and the perfect light-tasting base for my Fluffy Pumpkin Pie Spice Buttercream. My recipe tester, Nicole, says they are like "airy, pumpkin spiced clouds with a delightful outer shell to sink your teeth into!" If you aren't in the mood for frosting, and prefer a lightly sweet, wholesome-tasting cookie, they also taste great without the buttercream. You can use store bought pumpkin pie spice for convenience, or this recipe for Homemade Pumpkin Pie Spice Mix. In the Tips section, I've provided sifted whole-grain spelt and all-purpose white flour swap options for the white/light spelt flour. Be sure to check them out before you begin as the flour substitutions aren't direct 1:1 swaps. This recipe is adapted from my Easy Vegan Sugar Cookies with Pink Frosting.
Ingredients
For the wet ingredients:
3 tablespoons (45 mL) grapeseed oil
3 tablespoons (45 mL) pure maple syrup
1/4 cup (60 mL) unsweetened pumpkin purée
2 tablespoons (30 mL) brown rice syrup
1 1/2 teaspoons ground flaxseed
1/2 teaspoon pure vanilla extract
For the dry ingredients:
3/4 cup plus 1 tablespoon (83 g) almond flour

*

1 cup plus 1 tablespoon (127 g) white/light all-purpose spelt flour

*

*

3 tablespoons (27 g) arrowroot starch
1/4 cup (60 g) natural cane sugar
1 teaspoon pumpkin pie spice
1/4 teaspoon fine sea salt
1/2 teaspoon baking soda
For the Fluffy Pumpkin Pie Spice Buttercream:
1/4 cup plus 2 tablespoons (75 g) soy-free vegan butter
1 1/2 cups (190 g) powdered icing sugar, sifted if necessary
1/2 teaspoon pumpkin pie spice
Pinch fine sea salt
Cinnamon or pumpkin pie spice, for garnish (optional)
Directions
Preheat the oven to 350°F (180°C) and line one extra-large baking sheet (or two medium-sized sheets) with parchment paper.
To a small bowl, add the wet ingredients: grapeseed oil, maple syrup, pumpkin purée, brown rice syrup, ground flax, and vanilla. Whisk until combined.
To a large bowl, add the dry ingredients: almond flour, spelt flour, arrowroot starch, cane sugar, pumpkin pie spice, salt, and baking soda. Whisk until combined.
Pour the wet mixture over the dry mixture (being sure to scoop all of the wet ingredients stuck to the sides of the bowl), and stir until it comes together into a dense, very thick dough.
The dough will be very sticky, but this is normal! Scoop a slightly heaping 1 tablespoon of dough into your hand, and roll it into a ball. Continue with the remaining dough, placing each ball onto the baking sheet about 2 to 3 inches apart. If needed, you can lightly wet your fingers during this process. Do not flatten the balls before baking as they will spread out on their own.
Bake the cookies for 12 to 14 minutes until lightly golden (I like baking them until lightly golden as the edges get a bit crispy during cooling). Cool the cookies completely on the baking sheet. To speed up the cooling process, cool the cookies for 10 minutes on the pan then transfer the cookies to the fridge until completely cooled.
Meanwhile, prepare the Fluffy Pumpkin Pie Spice Frosting: To a large bowl, add the vegan butter. Using electric beaters, beat the butter until smooth (about 30 seconds). Add the powdered sugar, pumpkin pie spice, and salt. Starting on low speed, beat until smooth and fluffy, gradually increasing the speed as the ingredients combine. It will look very crumbly at first, but it will eventually come together and become fluffy. If the frosting is still too dry, you can thin it with a tiny bit of almond milk (1/2 teaspoon at a time), and continue beating until smooth. If it's too thin, you can add a little more powdered sugar and beat again until smooth.
Spread the frosting onto the completely cooled cookies, and top with a sprinkle of cinnamon or pumpkin pie spice, if desired. Serve and enjoy! Leftover cookies can be stored in an airtight container in the fridge for 1 to 2 days. The cookies will soften when sealed in a container.
Tip:
* Be sure to use almond flour and not almond meal which is much coarser.
** I prefer the white/light spelt version. If you can find some, it's so lovely in these! If you can't find it in the store, though, you can sift whole-grain spelt flour before using. The flour won't be as fine and delicate as white/light spelt flour, but it will work in a pinch. To sift: place a large bowl on top of a kitchen scale, and tare the scale to zero. Spoon flour into a fine mesh sieve, and gently shake the sieve side-to-side until you have about 127 grams of sifted flour in the bowl. Discard the coarse flakes that remain in the sieve. Using sifted whole-grain spelt flour produces a more wholesome flavour and texture. Alternatively, you can use 3/4 cup plus 2 tablespoons (127 grams) all-purpose white flour instead of white/light spelt flour. When using all-purpose white flour, the cookies will taste a bit less sweet and complex compared to spelt flour.
Flours are measured using the "scoop and shake until level" method, where you scoop the measuring cup directly into the flour and shake the cup side to side until the flour is level. I recommend weighing the flour whenever possible for the most accuracy.
Nutrition Information
(click to expand)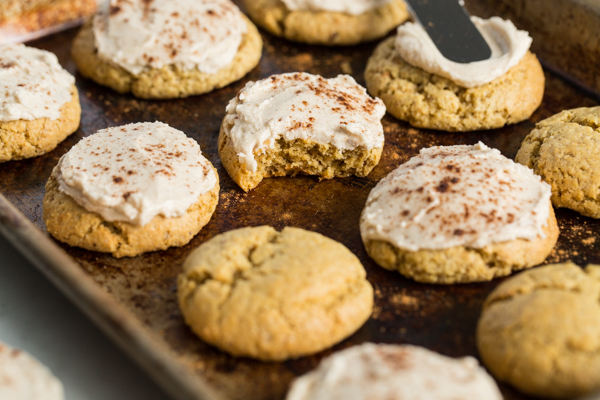 For those of you who missed my earlier announcement, Indigo is hosting a wonderful contest in celebration of Oh She Glows for Dinner! Plum members who pre-order my new cookbook are automatically entered in this wonderful prize package. It is a great time to do so, because the book is on sale for 22% off right now (Please note, I don't know when this sale ends). Click here to enter!