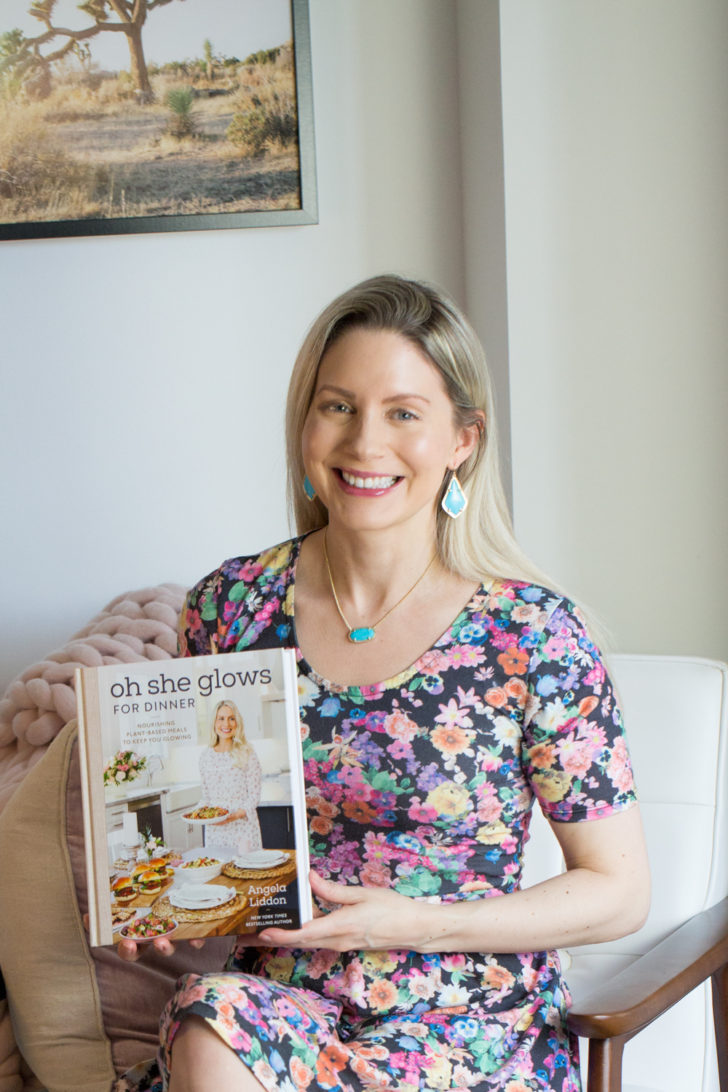 Hi everyone! I hope that summer is treating you well so far, and you're staying in good health and good spirits during what has been a heartbreaking year. How are you and your families doing right now? 
At long last, I have some fun news to share with you today! This cookbook reveal was supposed to go out to you in May, then in June, and then in early July, but with everything going on in the world it just didn't feel right, so I delayed it multiple times. I'm not sure it feels right even now, but I've had a lot of questions about the new book's listing on various retailers online, so I knew I couldn't delay any longer. I'm holding onto the hope that this news will bring a smile to your face and a bit of cheer. 🙂
If you haven't guessed already, my new cookbook, Oh She Glows for Dinner: Nourishing Plant-Based Meals To Keep You Glowing, is finally complete and it comes out in a couple of short months! It's been a wild ride to cross the finish line (never in my wildest dreams did I think I'd be wrapping up a cookbook during a pandemic and lockdown), but after 3 years of working away on this project, I'm absolutely thrilled to let you know all the juicy (pun intended) deets about this new book. If you subscribe to my newsletter, you may have seen the sneak peek pop into your inbox yesterday!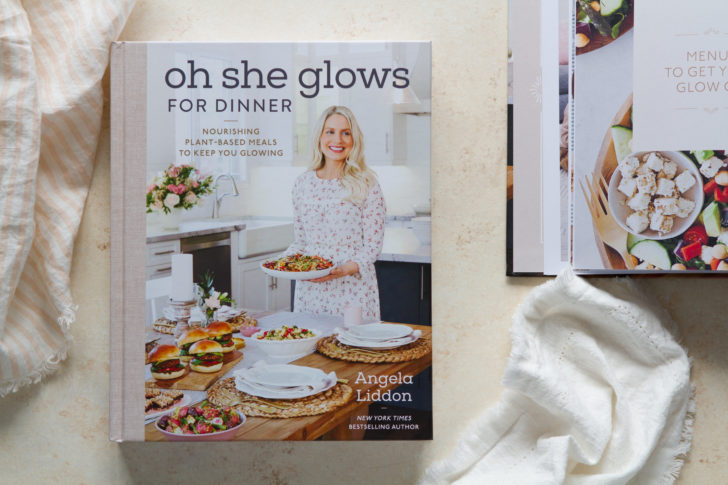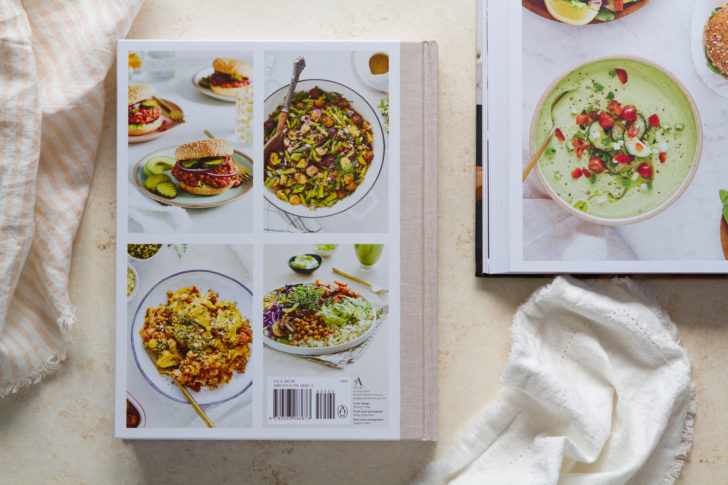 Here's a little behind-the-scenes from earlier this year when I was going over the book design!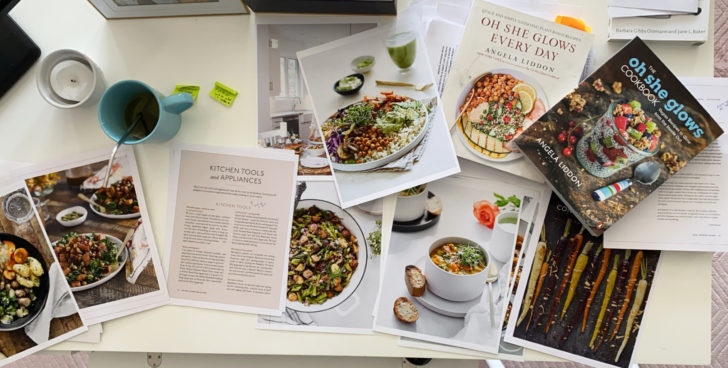 Shifting from "behind-the-scenes" mode to "in-the-spotlight" mode doesn't come easily for me (I'm much more of a behind-the-scenes kinda gal!), so this "launching into the world" part of the creation process is a big challenge for me on a personal level, and oh boy, the nerves I have right now are unreal. I'd be perfectly happy to work away diligently behind-the-scenes and never have to self-promote. 😉 Do any of you relate? I'm always up for a good challenge, though, and getting to reconnect with you all is the icing on the vegan cake! 
This book would not have been possible without your encouragement, patience, and support throughout the whole process! It also wouldn't have been possible without my small-but-mighty team made up of Nicole and Eric. They are my rocks, my sanity savers, my reasons for inappropriate fits of laughter, my sounding boards, my reminders to drink more caffeine and breathe, and it goes on. My incredible, diligent group of recipe testers (a special shout out and thank you to Anna, Carin, Tana, Tammy, Laurie, Caroline, Danielle, Vanessa, Lynn, Audrey, Stephanie D., Anne, Kathy, Stephanie S., Andrea, Beth, Katie, Lindsay M., Bridget, Laura, Lindsay V., Erin, Heather, Suzanne, Adrienne, Stephanie M., Carolina, Kirsten, Lori, Marina, and Kristen) have tested, and tested, and tested these recipes right alongside me and shared the most helpful feedback. And last but not least, I have so much gratitude for the amazing teams at Penguin Random House Canada and Avery! 
I held this book in my hands for the first time last week! I can't even tell you how fast my heart was a-thumpin' when I opened the box! It is always slightly terrifying and thrilling to open one of my books for the first time, and it really never gets any easier to send my heart and soul's work off into the world. But I am so darn proud of this book. It's my very first hardcover book, too!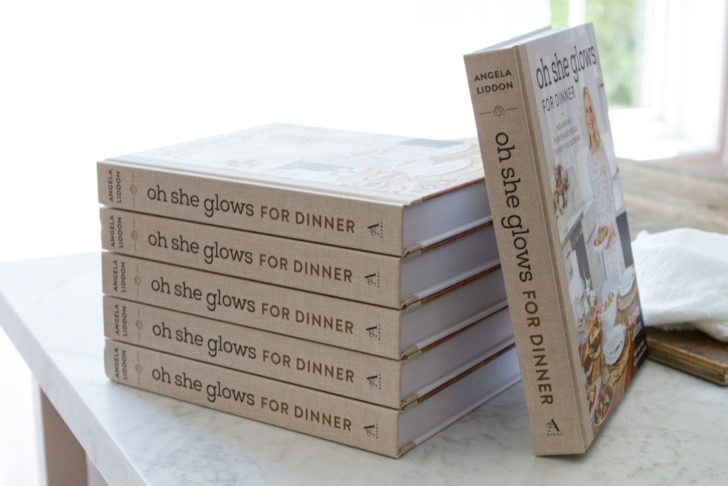 About this book
Oh She Glows for Dinner is a reflection of what you, my dear readers, have asked me for the most over the years—more plant-based, crowd-pleasing dinner recipes! 
Dinner is something I think most of us have struggled with (I know I sure have!), and when you throw "plant-based" into the mix it can be even trickier to figure out. If you've ever shrugged your shoulders over what to make for a vegan meal and resorted to toast or a bowl of cereal, you certainly aren't alone. I knew I had to create this cookbook to help answer the ever-burning "what's for [plant-based] dinner?" question. As an added benefit, the recipes in this book also make incredible (and often portable) lunches! You'll also find the perfect, satisfying sides to add to your dish, meal-worthy salads for every season, hearty & healing soups and stews, and a bounty of flavour-poppin' sauces, dressings, parmesans, and pestos that you can make to change up the flavour profile (or simply punch up your dish even more). And I threw in a delicious dessert/drink chapter, of course, because it wouldn't be an Oh She Glows cookbook without some sweet, healthified treats! 😉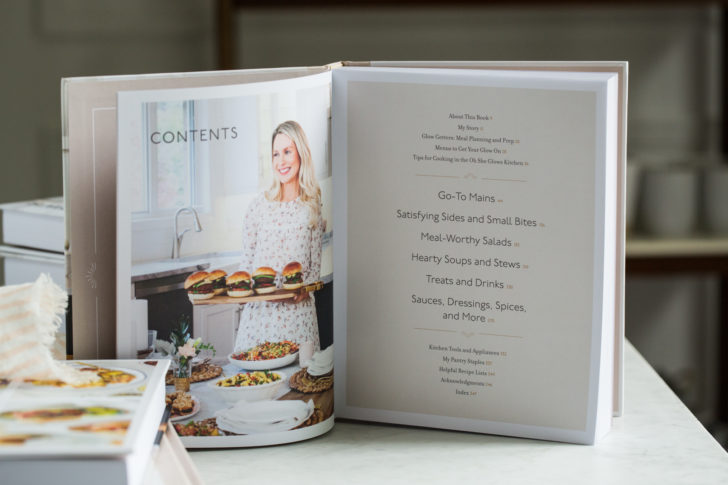 What you'll find inside:
Dietary and Cooking Labels
Each recipe indicates whether it is nut-free, gluten-free, soy-free, grain-free and/or oil-free, raw/no bake or one pot. Out of 106 vegan recipes in this cookbook, 101 are gluten-free or have a gluten-free option, 90 are nut-free or have a nut-free option, and nearly all are soy-free. I also share whether the recipe is kid-friendly, freezer-friendly, and/or if any advance prep is needed. My "on the glow" label tells you whether the recipe is portable. My goal was to pack in as much helpful info as I could for you (dare I say this is my most informative book yet?)…you know me, go big or go home…lol.
Storage and Reheating Instructions
Almost all of the recipes in this cookbook also include specific storage and reheating instructions, customized to each recipe. My recipe testers and I spent so much time testing the recipes to take the guesswork out of them for you!
Active Time and Total Time
Each recipe tells you how much active time and total time will be required. Active time is the time you are actively preparing food in the kitchen. Total time reflects how long the recipe takes from start to finish. If applicable, we also share Soak time and/or Chill time.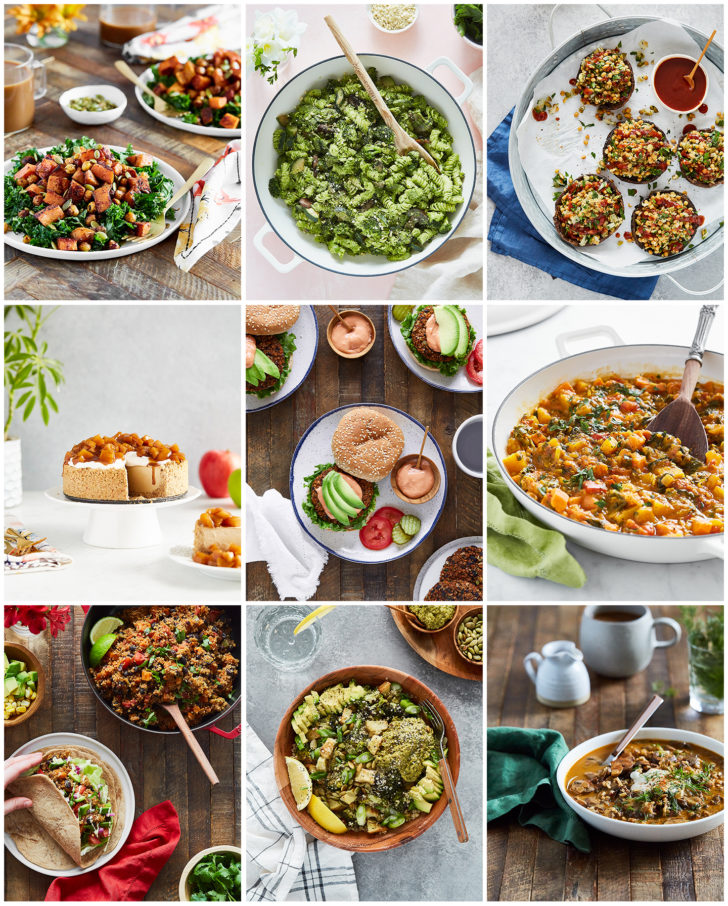 Full-page colour photographs 
I am so excited to share that I did the food photography and food styling for the recipes in this book – there are more than 100 of my photographs inside! 
Glow Getter Meal Plans 
This book includes 4 meal prep plans! Each time-saving plan provides step-by-step instructions, so you can prep or fully make 3 dinner recipes in just 60 to 90 minutes. I knew it was important to create plans that would actually work for a busy lifestyle. I've tried plans in the past that take 2.5 to 3 hours each week, and they just didn't fit into my life. These plans don't take long (60 to 90 minutes at a brisk pace) and they set you up with a few hearty meals each week!
Menus To Get Your Glow On
I also share my tried-and-true menus for special occasions or themed nights, such as Girls' Night, Mother's Day, Game Night, The Oh She Glows Cookbook Club Night, and more. If you have ever struggled with how to combine recipes for special meals, I really hope this will give you the inspo you need to simplify your planning. Don't forget to check out our bonus bundle below as it includes 4 designed printable menus which correspond to menus found in the book!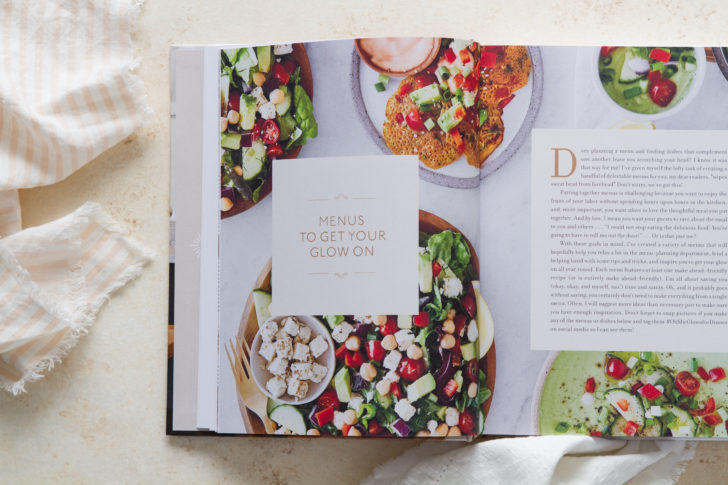 Helpful Recipe Lists
My Helpful Recipe Lists index at the back of the book provides at-a-glance searching of recipes by allergy label or preference, so you can find all the gluten-free recipes grouped together in one spot, or all the kid-friendly, freezer-friendly, nut-free, one pot, and on the glow recipes. 
My Pantry Staples, Kitchen Tools and Appliances
I've included a condensed list of the essential pantry items I keep on hand along with my favourite tools and appliances. If I have a preferred brand, I share those names with you, so you know exactly what I use in my own kitchen.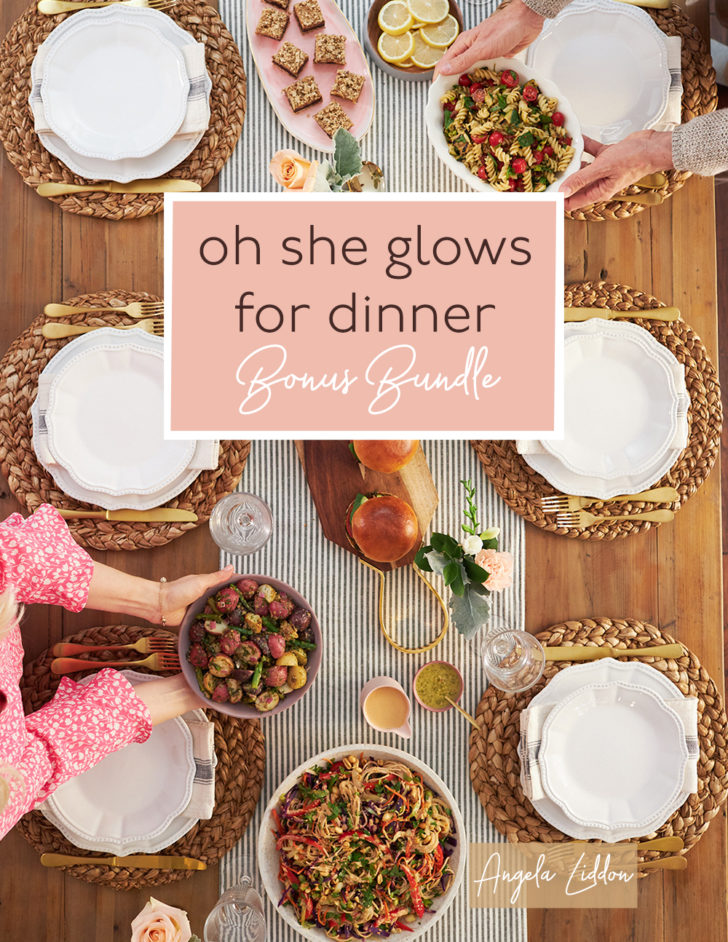 The Oh She Glows for Dinner Bonus Bundle is here! 
The response to my pre-order bonus bundles for my previous two cookbooks was so enthusiastic, I knew I had to raise the bar and add in some exciting and unique new bonus features. This Oh She Glows for Dinner Bonus Bundle is definitely my favourite, most cheerful and creative pre-order bundle yet. All the *heart eye* emojis for this one. I had so much fun collaborating with local artist, Kayla Whitney, to create an adorable, custom Oh She Glows "Glow" downloadable art print for you to print and hang on your walls! This is my very first custom Oh She Glows print and it looks so bright and cheery on the wall. If you end up hanging the print in your house, we'd LOVE to see it! Simply tag it with #ohsheglowsfordinner on social media.
In addition to the "Glow" art print, you'll receive 4 artfully designed Oh She Glows for Dinner menus to download and adorn your dinner table on special occasions. Super-handy Glow Getter Meal Plan printables from the new book will make prepping the plans even easier when your book arrives. It's so convenient to print the meal plans and place them on your counter so you can cross things off as you work through the plan. Lastly, I couldn't make you wait until October to get cooking, so I've included 4 advance recipes in this bundle—a few of my summer-friendly ones that we've been enjoying during this hot season! 
If you pre-order
Oh She Glows for Dinner
, keep your receipt handy and
follow this link
to get your free bonus bundle PDF!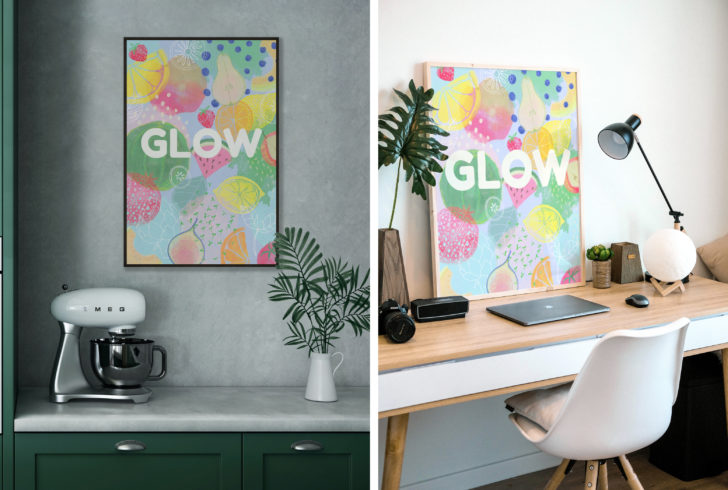 Pre-order now at the following retailers:
Please note: We earn a small commission if you purchase an item through our affiliate links above. Thank you so much for your support!
I can't wait to hear what you think!! 
With love and gratitude,
Angela xo